Join us this Saturday for the Surfrider stop at the Rock and Roll Marathon! Or, join us this Sunday for a cleanup at Dyke Marsh! Or if you're really feeling stoked, join us for both! Family and friends are welcome at both events, and details are as follows:
Rock and Roll Marathon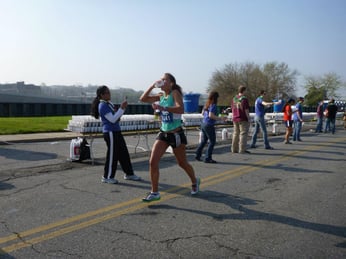 Date: Saturday, March 16
Time: 7am-Noon
Place: Stop # 11, at Goodhope Drive and Anacostia Drive SE in Anacostia Park. The stop is in Anacostia Park, just across the river from the Nationals ballpark.
Location: Eastbound on Anacostia Dr, about 350 yards West of Good Hope Rd.
Approximate mile on the racecourse: 20.7 (this is a really hard point in the marathon with lactic acid bringing out the Tin Man - support is highly valued)
Look here for street closures, which start as early as 6:30 AM in NW and NE: http://runrocknroll.competitor.com/usa/road-closures
Driving Directions provided by the Marathon:
Head Northwest on MD-5 N/Branch Ave
Merge onto Suitland Pkwy via the ramp to Washington
Keep RIGHT at fork
Slight LEFT onto the ramp
Keep RIGHT at the fork
Turn RIGHT towards 'Anacostia Pavilion'
Driving directions from DC (use with caution; South Capitol closes around 8 AM but parts of NW and NE close as early as 6:30 AM): Take South Capitol Street away from the U.S. Capitol. You'll pass the ballpark on your left. As you cross over the South Capitol Street bridge, get in the left-hand lane and a few hundred yards after you exit the bridge on your left you'll see a light-colored access road that bends sharply to the left up a hill. TURN LEFT THERE and follow the road around. Drive straight for a few hundred yards and follow the road around to the right. Water stop will be a little ways down near the intersection with Good Hope Road. You'll know you're in the right place when you see the big gray battleship in the river!
Parking Information: Volunteers should park on road South of Anacostia Dr and West of Good Hope Rd SE.
Snacks provided. Volunteers get a free race crew t-shirt. All are welcome, so bring your friends and family! Students can receive community service hours for this event.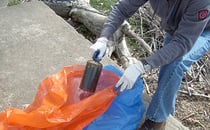 Dyke Marsh Cleanup:
Date: Sunday, March 17
Time: 12:30
Place: Alexandria, Virginia
Volunteers will be transported from and back to Belle Haven Marina via skiff boat. Wear sturdy soled shoes (warm, waterproof boots highly recommended!) and warm layers. Trash bags, gloves, and trash pickers will be provided. Fun holiday swag and treats also available.
Directions to Belle Haven Marina: http://www.saildc.com/directions.php.
For more information on Dyke Marsh, visit: http://www.fodm.org/marshbio.htm.
Four Chapter boards are available for use. Please comment in the Facebook events comment section if you would like to use a Chapter board. If you are not on Facebook, please e-mail cherylnorcross@gmail.com. NOTE: to use a Chapter board at this event, you must wear at least a 3/2 wetsuit & booties. We encourage you to byo-boat/board.
Following the cleanup, join us in Old Town Alexandria for pizza and beer at Faccia Luna (http://www.faccialuna.com/), rumored to be the best pizza in Virginia. (823 South Washington Street, Alexandria, VA).